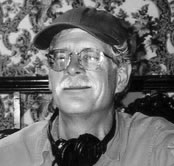 Warren Haack: Film-maker - Sound Designer
Warren Haack, film-maker, received his BA and MA in Film, with honors from SF State University. He spent eight years working as an editor and sound designer for Harcourt Brace Films. In 1982, he returned to SF State, this time to be on staff of the Cinema Department, where he works today. He has taught classes in Audio for film at Film Arts Foundation in S.F. since 1985, and at DeAnza College in Cupertino. At his own studio, he specializes in Sound Design and Post Production Services, he has finished many soundtracks and videos in the last 20 years. As a musician, he has recently been involved in a two-man retrospective to Woody Guthrie. He plays dobro and guitar and has performances scheduled this summer. He resides in El Granada with his daughter who is involved in ceramics, kickboxing and fashion modeling.
Filmography
Films:
"The Legend Of Two Joaquins". Work In Progress. 16mm. (56 Min.). The California Gold Rush of 1849 created the legend of Joaquin Murieta - a figure seen variously as either a folk hero or bandit. The hysteria of the "Joaquin Scare" created a mass exodus from the mines - the result of stories told around a thousand campfires. To the Rangers pursuing him, he was a phantom - for in his many guises, he could appear in a dozen different places at one time. This work, which was filmed on location in the Mother Lode with attention to period detail, is a must for those interested in the history of California.
"A Rough Cut Life: Logging Railroad Stories" 2004. Video 26 Min. This documentary looks into the challenging lives of a group of people who ran steam logging railroads. Humorous antecdotes are intercut with archival film dating back to 1935, providing a view of a long vanished era when life wasn't too refined. Snow plowing, camp life, and wreck and run-aways are shown and described by the hoggers, boiler stokers and flimsy handlers who worked on the railroads.
"Return To The Circle" 1994. Shot in 16mm, finished in Betacam SP Video. 8 Min. Fundraiser for the American Indian Family Healing Center, a substance abuse rehabilitation program in Oakland which includes attention to the spirit, mind and body.
American Indian Film Festival, 1994
"Ama's Traditions" 1991. Video, 10 Min. Documentary. Dorothy Stanley (1924-1990), a Northern Sierra MeWuk leader and renouned traditional basket weaver was known as "Ama" (everybody's Grandmother). During her lifetime, she shared knowledge of the old ways and material culture of the Sierra MeWuk Indians of California as taught to her by her "Ama", Annie Fuller.
"Reno" 1984, Video 4 Min. A Country Western Music Video with a twist of humor.
"El Dia Tarasco" 1982, 16mm. 29 Min. This documentary which focuses on the making of art objects for the celebration of the Day Of The Dead was filmed on location in central Mexico. Art historian, Robert Freimark comments on the evolution of this tradition.
Distributed by Grass Valley Productions
"Mother Lode Shortline". 1982. 20 Min. 16mm. The Sierra Railroad hired Warren Haack to make a promotional film for their excursion and motion picture markets. This film shows operation of 4 different steam locomotives, goes behind the scenes in the roundhouse, and follows several of the train trips. Al Lehr, who worked as a brakeman on the railroad provides an often humorous look at the operations.
"Selective Service System". 1970, 16mm, 13min. Documentary. Hollywood war pictures have disillusioned us in glorifying war and it's heros. There is no way to rationally explain how the "SSS" film came about. The War in Vietnam was not rational, nor was the draft system that fed it. Young men either served in a war in which they did not believe, or faced the bleak alternatives to service. This film documents one such alternative.
First Documentary: Fifth National Student Film Festival, 1970
Premiere at Lincoln Center for Performing Arts, NYC, 1970
First Documentary: Ann Arbor Film Festival, 1970.
Oberhausen Film Festival, 1971.
Personal Portraits On Video
"Rina Pacini: The Garlic Granny". 2001. 15 min. Rina Pacini, born in 1911, reflects on her life growing up on the family farm in Half Moon Bay. Her dogged determination carried her through many challenges. She was interviewed by Eric Shapira at her home in El Granada, where she shows us her huge garden in which she still grows large amounts of food.
"The Dignity Of A Man". 1999. 24 Min. Documentary. Dr. Franz Von Forester reflects on his existential past as he prepares to go into hospice care. (He lived thru the German Concentration Camps, and was interviewed by Eric Shapira at his home near Pescadero).
"How Do You Like Zazen? How Do You Like Brown Rice?" 1998. 5 min. Shunrya Suzuki - Roshi (1905 - 1971), a direct spiritual descendent of the 13th century Zen Master Dogen, came to America in 1958. The recording of a lecture he gave in 1970 provided the basis for this video.
Collaborative Work:
"Los Desaparecidos (The Disappeared Ones)" 2003. Bob Freimark . Editing, Sound Design and Graphic Brochure.
Testimony of the survivors of Argentina's "dirty war", including the Madres de Plaza de Mayo, the children of the survivors, lawyers and Judges.
First Prize Documentary: Atlanta Film Festival
New York Independent Film Festival
Austin Film Festival
"Mama Wahunzi" 2001. Lawan Jirasuradej. Sound Design & Mix. This documentary
rediscovers the fortitude of the human spirit through a compelling tale of three courageous women - all wheelchair riders - who bravely battle the odds of disability by taking control of their means for mobility. It was filmed on location in Kenya and Uganda, and edited in the U.S.
Audience Awards at African American Women in Cinema - NYC, USA and African Studies Association Conference - USA; Festivals: International Women Film Festival - Turin, Italy, Zanzibar International Film Festival - Tanzania, Zimbabwe International Film Festival, Wie wir leben (The Way We Live) - Munich, Germany
"Starlight Tracks" 2000. California Zephyr's latest Music CD. Engineering, mixing
and graphic design.
"Arte Cubano" 1999. 56 Min. Video. Bob Freimark went to Cuba to meet and interview artists working in ceramics, sculpture, printmaking,and painting. Despite a 40 year embargo, he found a rich art tradition with their own forms and concepts. Post production and Sound Design.
First Place: 2001 SF Throwback Film Festival
New York Independent Film Festival, 2001
"A La Medida" 1998. Lisette Barcellos. Sound Design.
"Double Solitaire" 1997. Corey Ohama. Sound Design.