Welcome to the Coastside Film Society website!
The Coastside Film Society exists:
To provide a venue for the viewing of independent films, emphasizing works produced by local filmakers;
To offer workshops in filmmaking skills of all types and levels;
To encourage local film projects by society members.
Next Event: January 30, 2016
Not really. We have not yet set the date for our first program of 2016.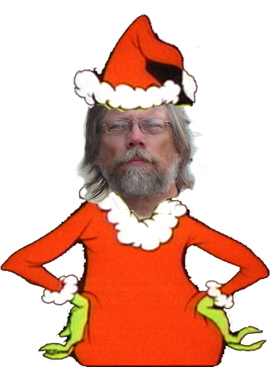 The holiday season is always too busy. That's why we don't schedule any new films in the month of December.

Rest assured we plan to return with an exciting new program in January of 2016. Wanna know what that program is going to be? We are working on it. Those of you have subscribed to our mailing list will get an email from me as soon as we have finalized the program and the schedule.

What you say, you have not subscribed to our mail list! Now would be a great time to click on the subscribe button on the left of this screen to give me your name and e: mail address and join the happy group of folks who are always in the know about upcoming Film Society programs. I promise I won't share your email address with any of those nasty web Grinches that haunt all our e:mail lists.

Favorite programs of mine in 2016 included our Spooky Silent Film night with live music by the incomparable Shauna Gordon-Picket and the night of Latin music and film featuring our own Warren Haack's new film he shot last year in Cuba. Wanna tell some of one of your friends about a favorite flick you saw during one of our film nights, but can't remember the name. Fret not, summaries about every film can be found by clicking on the "History" button the left side of this screen.

See you in 2016.

Joe Devlin, Information Director, Coastside Film Society.
Click on the links below for details.
Scheduled Events
| | |
| --- | --- |
| Date | Event |
| January 30, 2016 | Not really. We have not yet set the date for our first program of 2016. |