Events
August and beyond
---
Programme for August 29, 2014
| | | |
| --- | --- | --- |
| Half Moon Bay Silent Film Festival | | Tell friends about this event |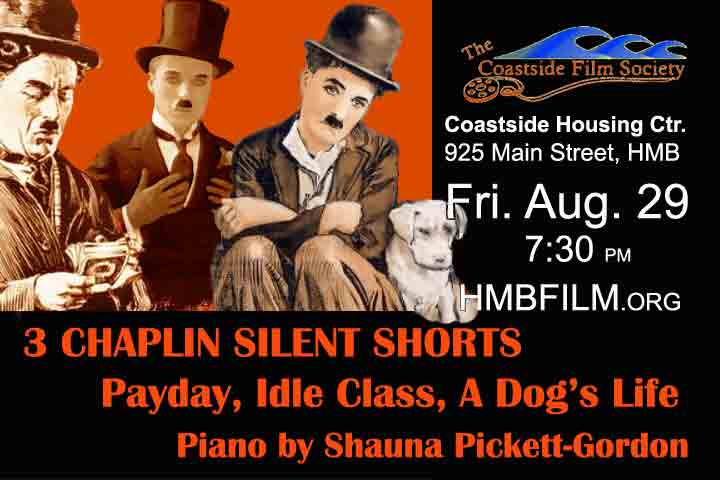 "Charlie Chaplin was the first great star of motion pictures. He made films everyone could understand. Chaplin was not only famous, but very good and in a constant state of rediscovery." Roger Ebert, Chicago Sun-Times.

All three will be shown with live musical accompaniment written and performed by pianist Shauna Pickett-Gordon.

If you have seen these films a million times before, come again - Shauna's music brings them to life in a new way. And don't forget to bring the kids. Time they got a taste of Chaplin at his best. Kids tickets are half priced with an accompanying adult.


Feature: 3 SILENT CHAPLIN MASTERPIECES
A Dog's Life - (1918)
Chaplin's Little Tramp shambles around the cold, cruel world with his partner Scraps the dog. They pull off brilliant coordinated food heists and befriend a lonely and lovely dance hostess. But things still look pretty desperate until Scraps discovers the hidden loot from a bank heist. Of course the crooks want it back.

The Idle Class - (1921)
The tramp sneaks into an upper class resort where he is mistaken for an inebriated millionaire. The millionaire's neglected and lonely wife is thrilled at her husband's transformation and spirited hi-jinx ensue. The tramp remains the tramp, but the opulent interiors and costumes contrast richly with the grunginess of the first film.

Pay Day - (1922)
Here Chaplin plays a construction worker who loves his job but is especially looking forward to getting paid at the end of the day and enjoying a night out with his pals. His penny pinching wife has other ideas. This gleeful romp showcases Chaplin in an extended choreography of expert brick-catching and an overactive elevator that catches everybody unaware. Arriving home at daybreak, Chaplin is getting ready for bed when the alarm clock rings, waking his wife. Another day at work begins.

Once again the music playing during our Silent Film Night is provided by Montara's own Shauna Pickett-Gordon. This is the sixth time that the Film Society has hired Pickett-Gordon to write a score for one of its silent film night features and to play that score live on her grand piano. Why go this effort when canned music is much cheaper? Check out the short video of Pickett-Gordon at work linked to above shot during the February Coastside Silent Film Night to see just how great she can be.

---
Donation: $8.00
When: August 29, 2014 at 7:30 PM
Where:
Coastside Adult Community Center
925 Main Street
Enter on Arnold Way
Half Moon Bay
| | |
| --- | --- |
| Directions: | South of downtown Half Moon Bay. Corner of Arnold Way and Main Street. Enter on Arnold Way. |