Events
November and beyond
---
Programme for January 30, 2016
| | | |
| --- | --- | --- |
| Not really. We have not yet set the date for our first program of 2016. | | Tell friends about this event |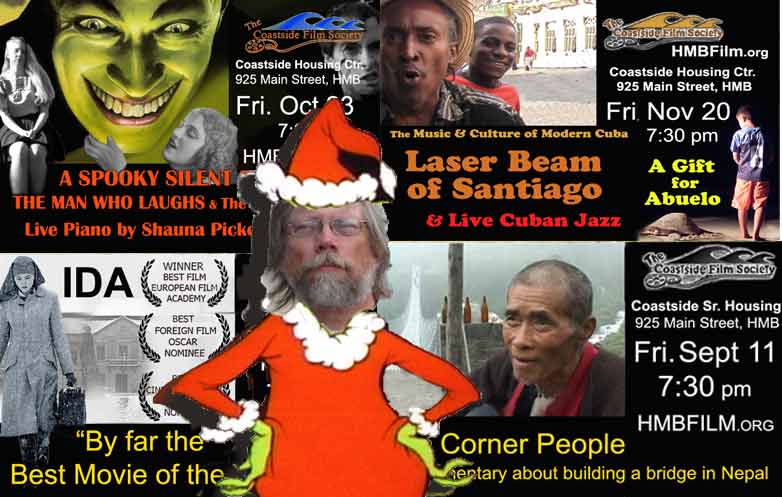 The holiday season is always much too busy for us to schedule any new films in December.

Rest assured we plan to return with an exciting new program in January of 2016. Wanna know what that program is going to be? Those of you who have subscribed to our mailing list will get an email from me as soon as we have picked a program and scheduled a night. If you have not yet subscribed, now would be a good time click on the JOIN button on the left and give me your email address.

2015 saw us in a reduced schedule while we looked for and moved to our new venue. Favorite programs in 2016 included our Spooky Silent Film Night with live musical accompaniment by the incomparable Shauna Gordon-Picket and last month's night of Latin music and film.

Details about these events and every other film we have ever screened can be had by clicking on the HISTORY button on the left.

See you in 2016.

Joe Devlin, Information Director, Coastside Film Society.


Warning
: mysql_fetch_array(): supplied argument is not a valid MySQL result resource in
/home/hmbfilm2/dillo/qDates.php
on line
401
Feature:
---
Donation: $0.00
When: January 30, 2016 at 8:00 PM